#Findsam: UK kids launch search for plush dog sent to space
Fri April 8, 2016  http://www.cnn.com/2016/04/08/world/findsam-plush-dog-space/index.html?sr=twCNN040916findsam-plush-dog-space0105AMStoryLink&linkId=23265148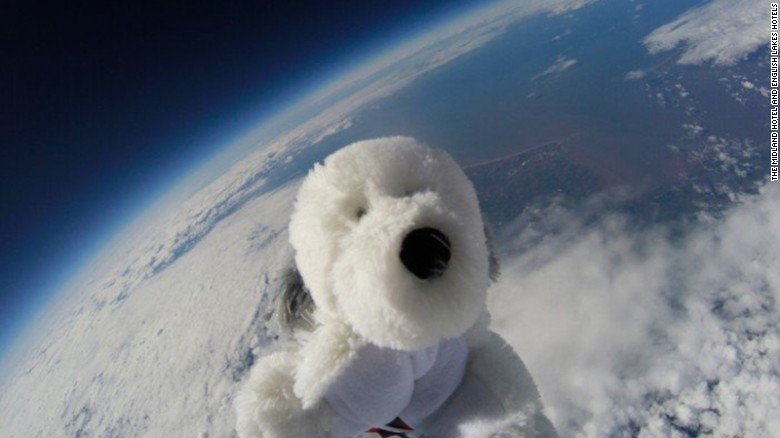 A GoPro attached to Sam the space dog's balloon sent home documentation of Sam's flight.
Sam the stuffed toy dog makes his way to the edge of space
Gear sent up with him is found, but Sam is missing
(CNN)"Have you seen this dog Sam?" "It was last seen flying across Lancashire," reads a missing dog poster showing a white cuddly toy puppy named Sam taking a selfie against a spectacular view of Earth. People in Lancashire, northwest England, are anxiously awaiting his return.
Sam is not an ordinary stuffed dog. He was enlisted as an astronaut by children at Morecambe Bay Primary School for a science project. Launched attached to a helium balloon, with tracking equipment and documented by GoPro cameras, he was the first toy-dog astronaut sent on a mission to reach the edge of space. But after his mission, Sam was nowhere to be found."All the children are obviously upset, and my two daughters really want him to be found," said Emma Lotty Connolley, whose daughters attend Morecambe Bay Primary School.
To help find Sam, Connolley started a Facebook page to spread the word. After less than 12 hours, the group had been joined by more than 900 people and the hashtag #findsam went wild on social media.According to flight data, Sam rose at a rate of 20 feet (6 meters) per second, and reached an altitude of over 15 miles (25 kilometers) above the Earth before the balloon popped. Sam has not been seen since, although his equipment was recovered.
The space project, in which the school partnered with the Midland Hotel and SentIntoSpace.com, is meant to help children in Morecambe learn astronomy and physics. To support the campaign, the hotel announced on its website that whoever finds Sam will be treated to a free stay. Ben Berry, representative of English Lakes Hotels, told the local Lancashire Telegraph: "This has been an exciting science project for the children. It has put them in charge of their very own edge-of-space mission, and we were more than happy to give Sam the dog the chance to follow in Tim Peake's recent footsteps."